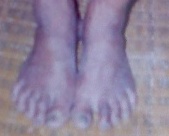 Salutations to the lotus feet of Guru Siddha Nath Obeisances at the lotus feet of Our Fore-Gurus
Lineage of Guru
Linage of Guru includes our first Guru, first Nath Yogi, about Nine Nath Yogis, our Pardada Guru (Guru's Guru's Guru) and Dada Guru (Guru's Guru).
Learn More »
Our Guru
ૐ Guru Siddha Nath    ૐ The True Guru of Guru Gorakh Nath's Sampradayam. Mithyawadi Baba Ashram (Nath Yogi Ashram), Heera ki Bageechi (Diamond Park), Mandsaur (MP), India.
Learn More »
Guru's Word
Poems, Verses, Q & A, etc. written by the inspiration of our Guru's teaching, Guru's Word and His grace.
Learn More »